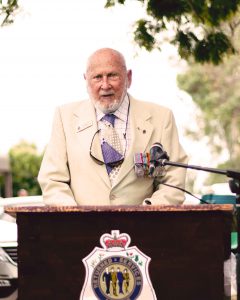 It is with deepest regret that I have to advise our Patron and longtime member;
William "Dusty" Miller passed away on Sunday 31 July 2016.
Our thoughts are with his family at this time. 
Peter Hall is in contact with Dusty's family and the Padre conducting the service and will keep us updated with any details as they are shared.
Our Patron
Dusty has been a valued member of the RSL and is well known for his tireless work in the community and will be sadly missed.
We know that this is such a loss for many of our members as Dusty has been a dear friend to many over the years. This selfless humble man was an inspiration to many, a strong and caring soul that impacted everyone who knew him.
Poppy Service
There will be a Poppy Service that will be conducted by Helen Cook.
This means that Medals are required to be worn to the service.
Service Information 
The service will be held at the Buderim Lawn Cemetery
Times: 2pm
Date : Friday 5th August 
Donations to the Heart Foundation
Dusty had made the request for no flowers at his service but if you would kindly make a  donation to Heart Foundation in his honour that would be greatly appreciated.