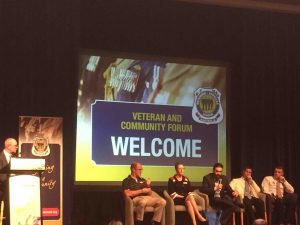 We attended the inaugural Veteran and Community Forum on the Sunshine Coast in July.
The Forum was held at Kawana Community Hall over 2 days. There was an impressive line of speakers.
Although we only attended a few sessions it was really valuable.
There was a great panel to wrap up the day where the days speakers addressed the audience questions. Some really great questions and feedback was shared with the audience.
I'm sure that many more could have benefitted from the form and I believe that it was a pity to see that there were so few attendees.
The Young Veterans
Personally, I was most impressed with Chris May from the  Young Veterans. This organisation has a focus on the newer veterans and how to support and engage the younger generations of veterans.
This young man has an amazing amount of heart and tenacity and his tireless commitment to this community is inspiring.
I think it would be great to find ways to support the Young Veterans.
I introduced myself to Chris and said that we would be open to the possibilities of collaborating with him in the future. While we are only a small sub-branch we may be able to find some way to join forces to arrange an event for the young veterans in our local community.
Chris believed that there are a number of veterans particularly with young families that we may be able to reach out to and arrange a social activity at the RSL hall.
I will keep you informed about any progress that is made.
Please let me know if this is something that you are interested in.