Since ancient times, woody, hardy rosemary has been shrouded in lore. How did this herb originating halfway across the world, at home in dry soil swaying in the ocean breeze up on Mediterranean sea cliffs, become such an important symbol for Australians remembering our ANZACS? Its journey from the wild, sparse shrubs found cascading down the shores of Gallipoli Peninsula to growing by our Cenotaphs and adorning our breast pockets and lapels at our most significant days of respect for the fallen is a long and significant one, foreshadowed in Ancient Egypt, Biblical lore and even the works of Shakespeare.
Use in Medicine Reflects Rosemary's Symbolism
In Ancient Greece, wreaths of rosemary were worn upon the brow by scholars to improve recall while taking exams, and interestingly enough, in modern medicine, research is illuminating its potential in preventing and treating Alzheimers' Disease – but its meaning in use as a herb symbolising remembrance, and sometimes mourning, is found all across history and in many cultures.
Rosemary in Ancient History, Myth and Literature
The earliest recorded symbolic use of Rosemary takes place in Egypt, where it was customary to lay fresh sprigs across a coffin or at a tombstone. The Virgin Mary was said to have spread her blue cloak over the blossoming shrub while resting, turning the white flowers blue – coining the name "Rose of Mary" – but the name actually derives from the Latin phrase ros marinus, meaning dew of the sea, likely referencing the fact rosemary thrives in harsh conditions, sandy coastal soils, flourishing wild by the sea.
More recently, it is referenced twice in the works of Shakespeare – first, in Romeo and Juliet, where Juliet is bestowed with rosemary following her untimely death – secondly, in Hamlet, where Ophelia hands Hamlet himself a sprig of rosemary, pleading him not to repeat his mistakes;
"There's rosemary, that's for remembrance, pray you love, remember."
The Rosemary of Gallipoli
So all this coinciding history of this humble plant, hundreds of thousands of years between, remains relevant – according to most historical accounts, the association with our Anzacs began in 1915, when a digger from Adelaide badly wounded in battle made it back to Keswick.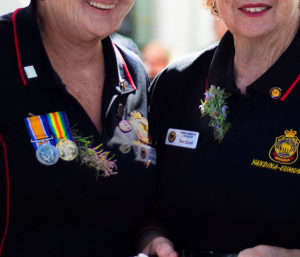 There, he was admitted to hospital with his belongings – but among them was a small rosemary bush tucked away, which he had himself uprooted from the slopes of the Anzac Cove. Per his request, the bush was planted on the hospital grounds, where it flourished for decades after. Sprigs of this symbolic bush that had travelled so far were worn upon the breast on Anzac and Armistice days. After the Repatriation Hospital at Daw Park, South Australia was established during World War II, cuttings from the Keswick rosemary were taken, and it was grown tall into a hedge on the Daw Park hospital's own grounds.
From this hedge, cuttings have sprung into full, lively bushes at Cenotaphs and at RSLs throughout Australia – named Gallipoli rosemary by the gardener who preserved cuttings of the Daw Park Repatriation Hospital's rosemary at his personal nursery, and distributed by the Avenues of Honour Project. When you stand by the cenotaph on Anzac Day, you might be humbled with the knowledge of how far the plant has travelled to be there.
So each year, we come together not only to pay respects to the sacrifices of Australians, but to remember why they were necessary. Like the Poppy of Flanders' Fields symbolises Remembrance day – for similar reasons to why the Rosemary of Gallipoli is important to our ANZACS – we remember that our history, and those who have sacrificed so that we may remember it at all, are honoured in gestures great and small.