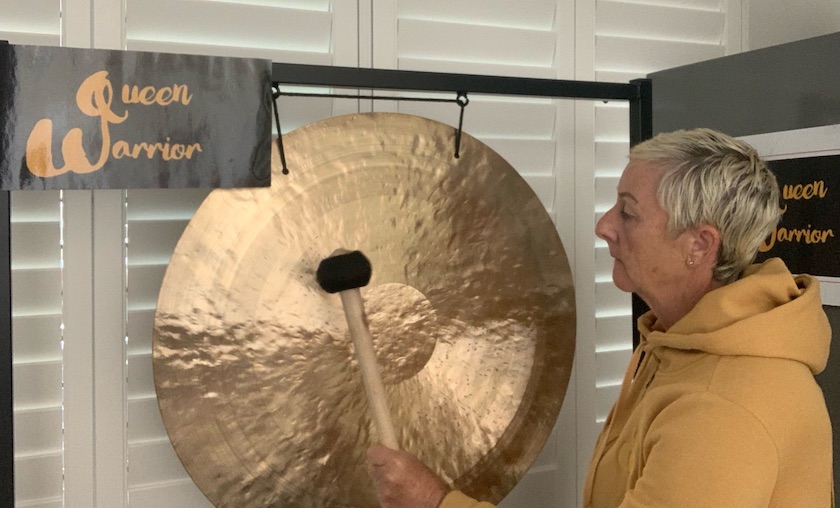 with Our Warrior Queen – Jeanette

Come along and let yourself be immersed in the wonderful state of sound vibration. A simple yet powerful experience which will move easily and without pressure throughout every part of your physical body and mental self.

Using a combination of:
Differing musical instruments, (I will be guided on the day)
Mantras,
Shaman Breath work,
Sharman Guided Meditation and;
Silent Meditation

You will be taken on a journey, your journey.
Each of you will receive the same experience, however, each of you a different outcome based on your own needs and healing. You will receive maximum enlightenment, healing and/or messages from spirit if needed or simply relaxation. Its about setting an intention and being open to what is happening without controlling your environment.
The Gong and Vibration
The Gong is the Master of all sound vibrations which move through your whole body whilst in a relaxed state. The Gong gives you and takes you on an inner journey of self discovery and clarity. When the metal of the gong is excited it creates a plasma field and this field engulfs the player, the gong and the listener. Gongs can aid in resolving emotional and physical disparities, it is uplifting and when it is at the right vibration for you it can assist you in entering another spiritual dimension.

Shamanism and Breathwork –
Specific breath work techniques for relaxation and focus. Medication guidance.
Sound and Vibration healing can assist you with:
PTSD
Aid in quality of sleepDepression
Clarity of purposeAnxiety
Relaxation

A little about Our Warrior Queen – Jeanette:

A veteran serving over 34years in the Royal Australian Navy. Retired due to ongoing physical and mental health issues. Diagnosed with Complex PTSD, Major Depressive Disorder and Anxiety, she sought assistance with main stream and alternative modalities. She found Shamanism over 5 years ago and has been studying this Spiritual connection since. It has helped her with her own self discovery, PTSD, Trauma, understanding of self, self worth and many other areas. She uses her gong and vibration in her daily practice.

Event Details
2:00 pm – 3:00 pm AEST
Sun., 22 August 2021
Bookings
This is an event for Veterans and their families. You may be asked to confirm your Defence service (or your partners). Thank you for your understanding.
A donation to the RSL Sub-branch at the door is appreciated.
Numbers are strictly limited to comply with current COVID safe requirements. Please do NOT attend if you are unwell or may be at risk of COVID.
Tickets are available through EVENTBRITE.
Bring:
An open mind and heart
Yoga or comfortable matWarm clothes
Water and/or Drink bottle