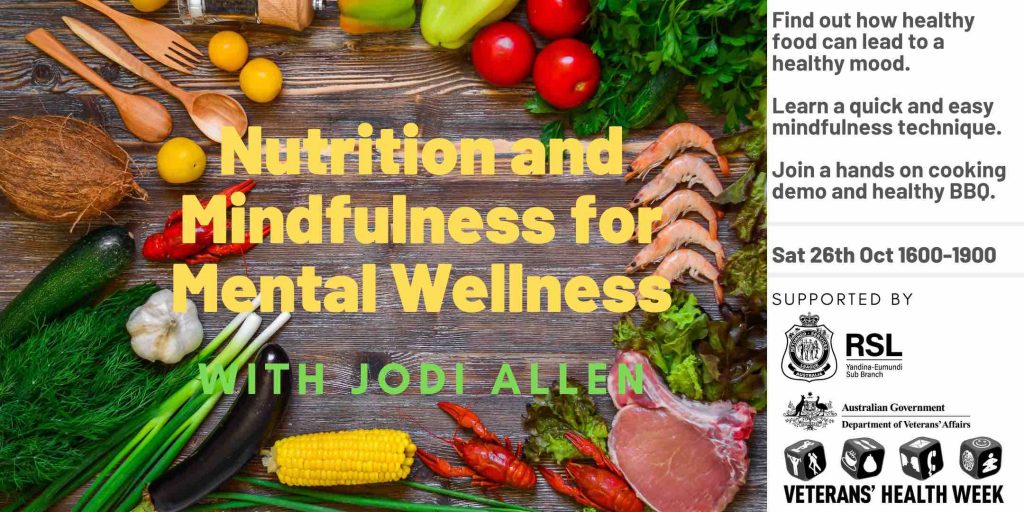 If you want to understand how your food impacts your mood we want to share with you the latest insights.
Our presenter Jodi Allen, will lead you through an informative session about the mind-gut relationship and why it is so important to your physical and mental health and what you can do to improve your health .
Jodi will also share with you a quick and easy mindfulness technique that you can do anywhere.
The final part of the session we will share in a hands-on cooking demo finishing with a delicious, healthy BBQ. Jodi will be providing tips and tricks to use every day. This will give us a chance to learn some practical ways to eating for better health. We close out the event by sharing a great meal together and hopefully some stories and laughs with the group.
Jodi is also EX-RAAF and is now a practicing degree qualified Clinical Nutritionist and Certified Health and Nutrition Coach
You can find out more about Jodi Allen here.
We encourage veterans and their families to attend. This is a child friendly event.
A printable flyer is available for download.
Tickets are available through Eventbrite.
Please advise of any children attending and dietary requirements when booking. Email details to – [email protected]
This event will coincide with with the Youth Leadership Weekend Workshop which finishes at 1530, so this event will begin promptly at 1600.
This event was created for Veterans Health Week and is supported by DVA.