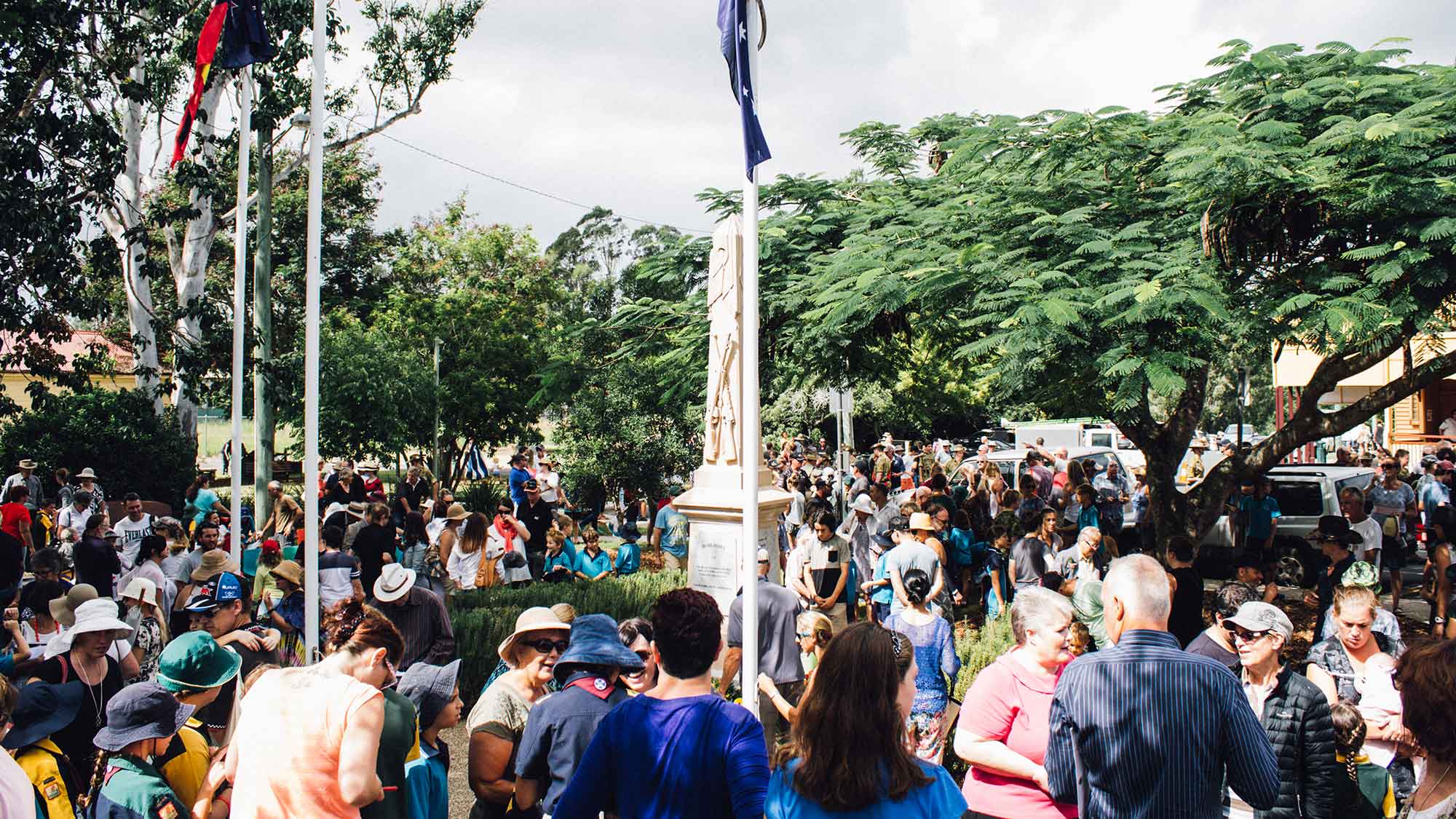 Live service is on Youtube at 1100 today – https://www.youtube.com/watch?v=OhI79nGQLTI. It will also be shared across Facebook through our event page https://www.facebook.com/events/2930911546974611?
We're happy that we are currently finalising our arrangements for this year's Virtual ANZAC Day Service, although we are unable to hold our traditional march and public ceremony we are glad that we are still able to offer a way for our community to still come together online toshare in this important event from the safety of your home . We are pleased that we can share much of the service that you have come expect with many of our favourite contributors to this event again in Yandina.
Commemorative Service
This will be a great day and one that our local community, members and attendees will all be proud to be paying our respects on., albeit online It is always wonderful to see young and old joining in, contributing and enjoying the ceremony.
Musical Accompaniment
We are excited to welcome back Melissa Isles and the DooWop Dolls for this years vocals . These lovely ladies will lead us through the hymns and our national anthems with their unique style that adds to our ceremony.
Local icon Victor Flatt has volunteered his services to bugle for to our ceremony, this is always special for us and we appreciate Victors ongoing commitment to our local service.
Local contributions and support
Our local youth from Yandina State School, The Yandina Scouts and our Youth Leadership group will be sharing their Anzac Day tributes.
We'd also like to publicly thank all who have contributed to the day including our volunteers.
Anzac Day Program
8am – FLAG TO HALF MAST
11am – SERVICE COMMENCES – Tracey Gilmartin
PRESIDENTS ADDRESS – Tracey Gilmartin
PADRE OFFERS PRAYERS – Rev. Peter Hall
ANZAC DAY ADDRESS – Guest Speaker – Ant Moorehouse
ANZAC DAY TRIBUTE – presented by Yandina State School
ANZAC DAY TRIBUTE – presented by Yandina Scouts
ANZAC DAY TRIBUTE – presented by Youth Leadership
(Please stand.)
HYMN – Amazing Grace – Led by The DooWop Dolls
WREATH LAYING – Lament – TBA
Read by Tracey G
Please stand for the Traditional RSL Valedictory
THE ODE – Chris Davey
LAST POST
(One Minute's Silence.)
ROUSE – Flag to Full Mast
NZ NATIONAL ANTHEM – God Defend New Zealand – – Led by The DooWop Dolls
AUSTRALIAN NATIONAL ANTHEM – Advance Australia Fair – – Led by The DooWop Dolls
CONCLUSION
Songs
Hymn – Amazing Grace
insert Amazing Grace;
God Defend New Zealand
E Ihowa Atua,
O nga iwi matou ra
Ata whakarangona;
Me aroha noa
Kia hua ko te pai;
Kia tau to atawhai;
Manaakitia mai
Aotearoa
God of Nations at Thy feet,
In the bonds of love we meet,
Hear our voices, we entreat,
God defend our free land.
Guard Pacific's triple star
From the shafts of strife and war,
Make her praises heard afar,
God defend New Zealand.
Advance Australia Fair
Australians all let us rejoice,
For we are young and free
We've golden soil and wealth for toil
Our home is girt by sea
Our land abounds in nature's gifts
Of beauty rich and rare
In history's page, let every stage
Advance Australia Fair.
In joyful strains then let us sing,
Advance Australia Fair.
Beneath our radiant Southern Cross
We'll toil with hearts and hands
To make this Commonwealth of ours
Renowned of all the lands
For those who've come across the seas
We've boundless plains to share
With courage let us all combine
To Advance Australia Fair.
In joyful strains then let us sing,
Advance Australia Fair.
WREATH LAYERS
President Tracey G – Yandina-Eumundi RSL
---
Guest Speaker -Ant Moorehouse – Middle Eastern Conflicts
---
Marty Hunt – Member for Nicklin
---
Councillor David Law – Sunshine Coast Council
---
Community Groups & Supporters
---
Members of the Public
Yandina-Eumundi RSL would like to thank the following for their input to our service:
Ant Moorhouse
Reverend Peter Hall
The Doo Wop Dolls
Victor Flatt
Our Volunteers
The Students and Teachers of the Yandina State School
Yandina Scout Group
Youth Leadership Group
And of course, all who have attended to pay respects to all our current and ex-service men and women.
Programs
No program programs will be available this year and you are encouraged to follow the order of service here on the page please.
Anzac Day Information
If you require any further details please contact us, although this is a very busy time, and we appreciate your patience.
#lestweforget #anzacday #anzacspirit