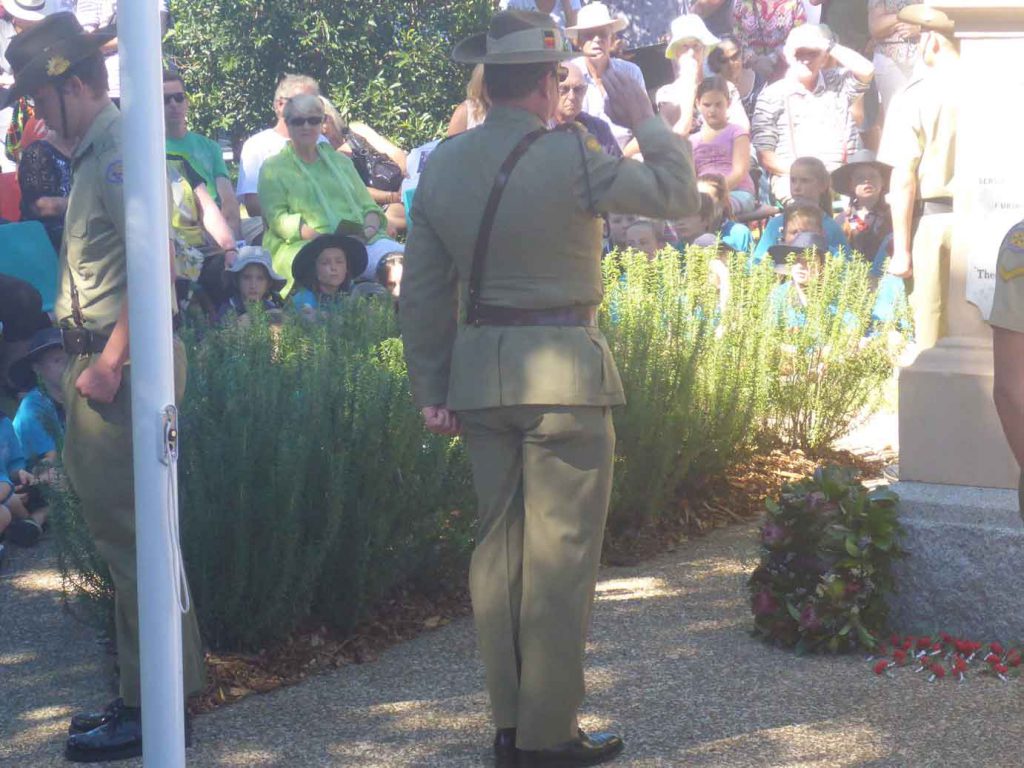 We are so pleased with the interest that we have received for the Yandina March and Ceremony. It is set to be a wonderful commemoration that marks the 100th year of Anzac Day services and 100 years of the RSL, so a proud day for many to pay their respects here on the Sunshine Coast.
The Guest Speaker
This year our guest speaker will be our own RSL Patron, Mr Dusty Miller, a World War II veteran, who served at Bomber Command during his enlistment in the RAAF. Dusty joined the RSL in 1945 and has been a member of the Yandina RSL for over 35 years. This humble man is well known for his tireless work supporting and educating others in the local community. Dusty has been featured a number times in the local press and in books over the years.   The experience and insights of Dusty's speech will provide a wonderful tribute and different perspective that comes from a true gentleman with a lifetime of experience that is now known by just a few remaining heroes from a time long since past.  It is an absolute honour to have Dusty speak on such a special day.
The Music
The Buderim Concert Band will be supporting the March and the Service with some beautiful tributes throughout the mornings commemoration. They will also be supporting our very talented vocalists Melissa Isles and Danielle Vickery with the hymn and the national anthems.
Community contributions
All great local events are built upon local community support and we are are proud of how our local's support Anzac Day.
Our local Army Cadet Unit, 128ACU, lead by Capt(AAC) Andrew Cummings will support us the important ceremonial commitments with the Flag party and the Catafalque party. These a steeped in tradition, they are always moving and provide a significant contribution to the Anzac Day ceremony.
It is always a pleasure to share this day with the local schools, we are grateful to have contributions from our Community Link School Children the Yandina and North Arm State Schools and the Yandina Scouts. The children always share with us their amazing tributes, that are genuine and heartfelt.
There are many other community groups and individuals that are coming together to make this such a great commemoration.
Anzac Day Program
8am – FLAG TO HALF MAST – 128 ACU
10.45am – FORM UP FOR MARCH – Parade Marshall
10.50am – MARCH OFF – Parade Marshall
10.55am – MOUNT CATAFALQUE PARTY  – 128 ACU
11am – ANZAC REQUIEM – David Buckley
PADRE OFFERS PRAYERS – Rev. Peter Hall
READING THE NAMES OF THE YANDINA FALLEN – Helen Cook
LAYING OF ROSEMARY – Community Link School Children
ANZAC DAY ADDRESS – Dusty Miller
ANZAC DAY TRIBUTE – presented by North Arm State School
ANZAC DAY TRIBUTE – presented by Yandina State School
ANZAC DAY TRIBUTE – presented by Yandina Scout Group
Please stand
HYMN – Abide With Me –Sung by Melissa Isles and Dani Vickery Music by Buderim Concert Band
WREATH LAYING –Lament – Buderim Concert Band
Please stand for the Traditional RSL Valedictory
THE ODE – Helen Cook
LAST POST
One Minute Silence
ROUSE – Flag to Full Mast
NZ NATIONAL ANTHEM – God Defend New Zealand
AUSTRALIAN NATIONAL ANTHEM – Advance Australia Fair
DISMOUNT CATAFALQUE PARTY- 128 ACU
CONCLUSION
If you would like to download a copy of the program Anzac Day Program 2016
Printed copies of the programs will be available on the day.
Songs
Hymn – Abide With Me (Henry F Lyte, 1847)
Abide with me; fast falls the eventide;
The darkness deepens; Lord with me abide.
When other helpers fail and comforts flee,
Help of the helpless, O abide with me.
I need Thy presence every passing hour.
What but Thy grace can foil the tempter's power?
Who, like Thyself, my guide and stay can be?
Through cloud and sunshine, Lord, abide with me.
I fear no foe, with Thee at hand to bless;
Ills have no weight, and tears no bitterness.
Where is death's sting? Where, grave, thy victory?
I triumph still, if Thou abide with me.
God Defend New Zealand
E Ihowa Atua,
O nga iwi matou ra
Ata whakarangona;
Me aroha noa
Kia hua ko te pai;
Kia tau to atawhai;
Manaakitia mai
Aotearoa
God of Nations at Thy feet,
In the bonds of love we meet,
Hear our voices, we entreat,
God defend our free land.
Guard Pacific's triple star
From the shafts of strife and war,
Make her praises heard afar,
God defend New Zealand.
Advance Australia Fair
Australians all let us rejoice,
For we are young and free
We've golden soil and wealth for toil
Our home is girt by sea
Our land abounds in nature's gifts
Of beauty rich and rare
In history's page, let every stage
Advance Australia Fair.
In joyful strains then let us sing,
Advance Australia Fair.
Beneath our radiant Southern Cross
We'll toil with hearts and hands
To make this Commonwealth of ours
Renowned of all the lands
For those who've come across the seas
We've boundless plains to share
With courage let us all combine
To Advance Australia Fair.
In joyful strains then let us sing,
Advance Australia Fair.
WREATH LAYERS
Yandina/Eumundi RSL President David Buckley
Dusty Miller – Legacy
Capt. Andrew Cummings – 128 ACU
Malcolm Gray – National Servicemen
Tracey Gilmartin – Service Women
Rev. Peter Hall – Nuclear Veterans Assoc.
Craig Morgan – on behalf of Clive Palmer
Councillors Greg Rogerson & Steve Robinson Regional Council
Students from Yandina State School & North Arm State School
Yandina Scout Group
Lynda Tomkins – CWA
Rev. David Tidey – Yandina Chamber of Commerce
Marie Reeve – Yandina & District Community Association
Members of the Public
Yandina-Eumundi RSL would like to thank 
the following for their input to our service:
Our Guest Speaker Dusty Miller
Reverend Peter Hall
Patrick Tempest
The Buderim Concert Band
Melissa Isles and Dani Vickery
128 Army Cadet Unit
Our Volunteers
Members of the SES and the Queensland Police Service
The Students and Teachers of the Yandina State
and the North Arm State School
Yandina Scout Group
And of course all who have attended to pay respects
to all our current and ex-service men and women